Beginner

[C# source] [VB.NET source] [embedded SQLite DB]
Week view
Drag&drop event moving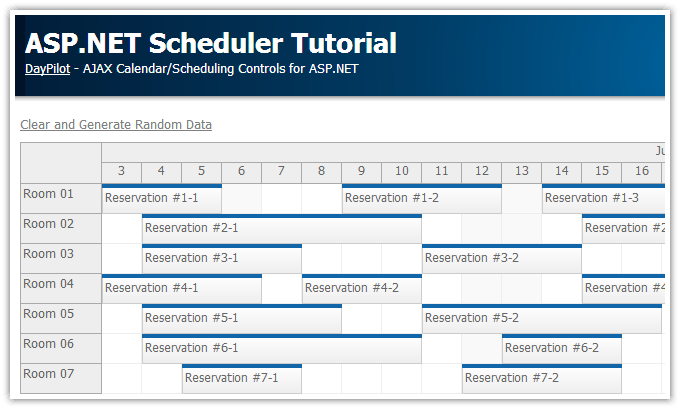 Features
How to load resources from a database
How to load events from a database
Drag and drop event moving
Year view (365 days), day scale (1 cell = 1 day), grouped by month
Default CSS theme
SQL Server database
Visual Studio 2012 solution
C# and VB source code

C# source
VB source
Embedded SQLite database
Integration with DayPilot Navigator
Week view
Drag&drop event moving
Weekly event calendar export to PNG and PDF
C# source code
VB source code
Visual Studio 2010/2012 solution
SQL Server database
Custom PDF page size (Letter, A4)
PDF page orientation (portrait, landscape)
Custom PDF document header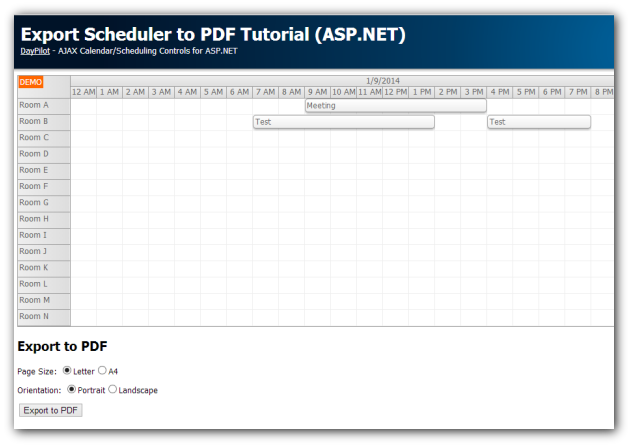 C# Source
VB Source
Visual Studio 2010/2012 Solution
SQL Server Database
Custom PDF Page Size (Letter, A4)
PDF Page Orientation (Portrait, Landscape)
Custom Header Text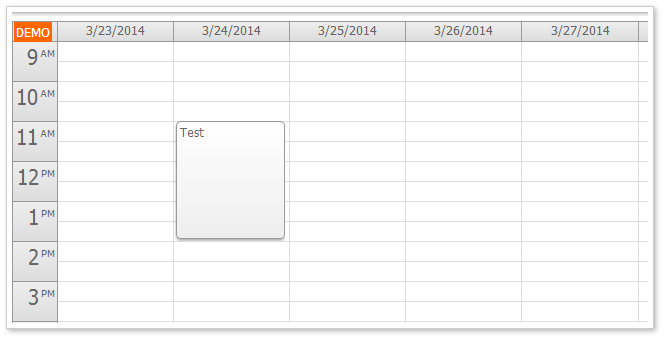 Editable weekly event calendar
Special print page with custom layout, with the event calendar embedded as PNG image
C# Source
VB Source
Visual Studio 2010 Solution
SQL Server Database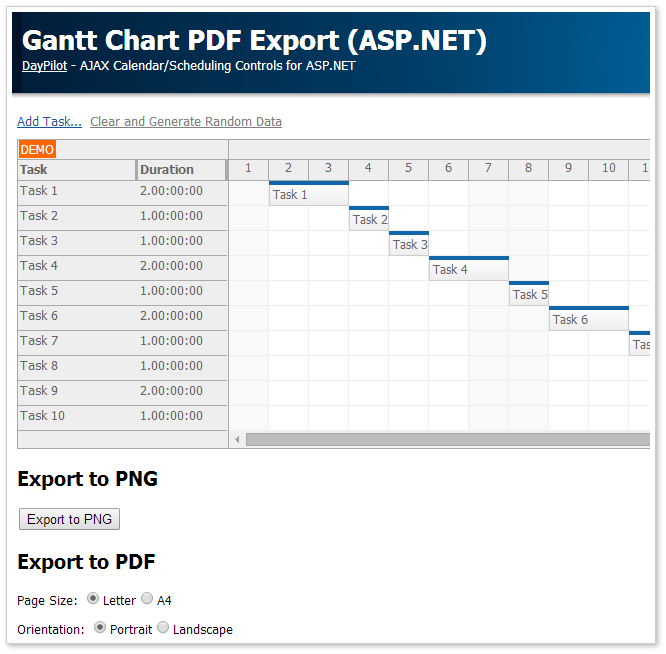 Features:
ASP.NET Gantt Control
Customizable scale - we are displaying one cell per day
Customizable time header - we are displaying days grouped by month
Adding a new task using a modal dialog
Editing a task using a modal dialog
PNG Export
PDF Export
Customizable PDF page format (Letter, A4)
Customizable PDF page orientation (portrait, landscape)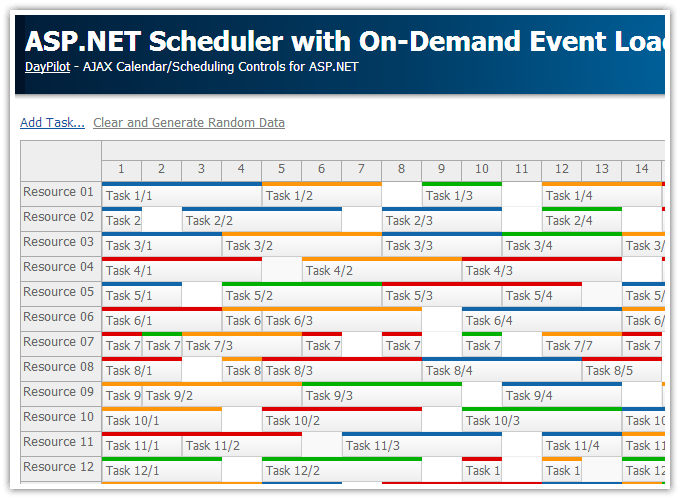 Features
ASP.NET scheduler control that loads events for the current viewport from the server during scrolling
Configurable cache size
C# and VB.NET source code
SQL Server Database (LocalDB)
Visual Studio solution
Intermediate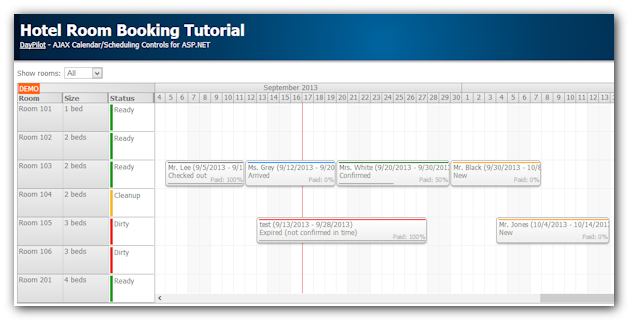 [C# source] [VB.NET source] [SQL Server]
Colors indicating the reservation phase
Rules for reservation updates (overlap forbidden, past reservations)
Filters for visible rooms (based on drop-down)
Modal dialog for event creating and editing
Message bar notification about user action result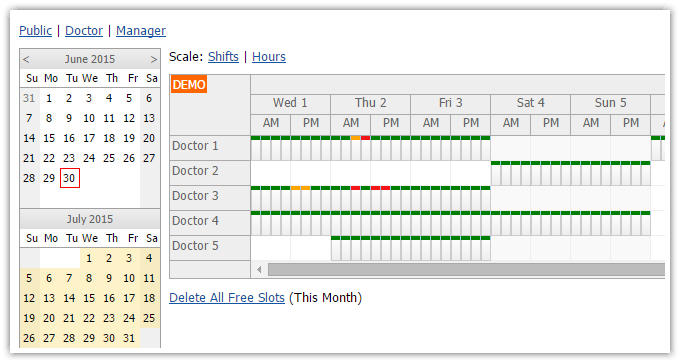 [C# source] [VB.NET source] [SQL Server]
Public interface for patients
Doctor's interface for managing appointments
Manager's interface for scheduling shifts
Using pre-defined appointment slots
Appointment status: "free", "waiting", "confirmed"
SQL Server database
Visual Studio 2013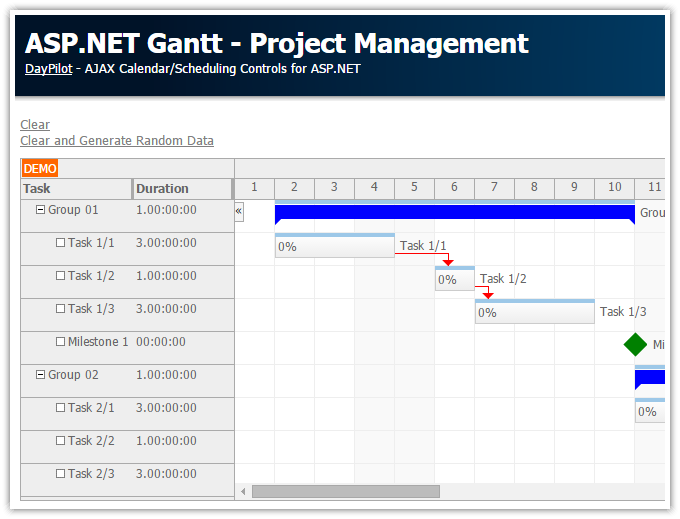 [C# source] [VB.NET source] [SQL Server]
ASP.NET Gantt Chart control
Drag and drop (task moving, resizing, link creating, row moving)
Dependencies (task links)
Task groups
Milestones
Task duration in a special column
Context menu for task creating and deleting
Visual Studio sample solution
C# source code
VB.NET source code
Includes a trial version of DayPilot Pro for ASP.NET WebForms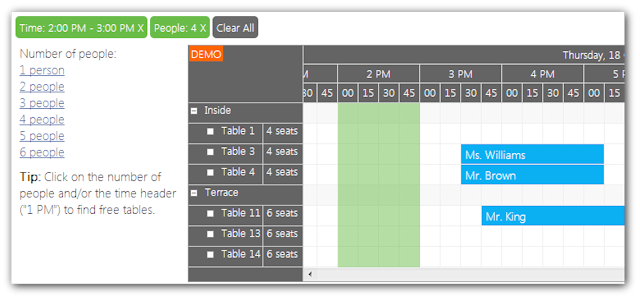 [C# source] [VB.NET source] [SQL Server]
Displaying tables in restaurant sections (Inside, Terrace)
Displaying table seats in an additional column
Disabling drag&drop operations for parent nodes (restaurant sections)
Time headers (day, hour, minutes)
Highlighting conflicting reservations
Reservation filter (find frees table by time and/or number of people)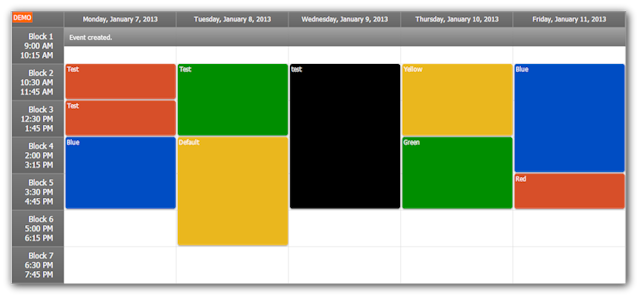 C# source
VB source
SQL Server
Weekly ASP.NET timetable
Displays time slots (blocks) with custom size (block number is mapped to the hour component of the DateTime)
Inline editing of the block properties using active areas.
Custom event color in combination with CssOnly mode (CSS styling).
Loads events and blocks from SQL Server database.
Full calendar CSS styling (calendar_green theme).
Integrates DayPilot Navigator for switching the week.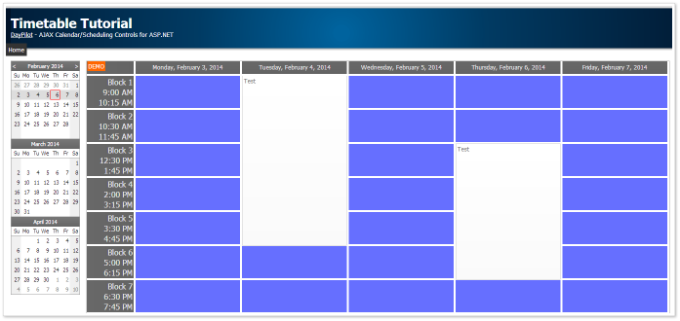 C# source
VB source
SQL Server database
Visual Studio 2010/Visual Studio 2012 solutions
Weekly timetable
Timetable CSS theme modified to show grid lines with 4px width
Timetable block editing (start and end time, name)
Timetable records editing using drag and drop (creating and moving the events)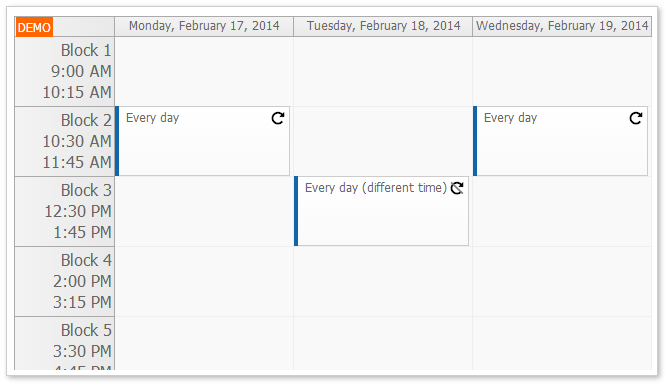 Basic timetable features:
Based on the DayPilot event calendar ASP.NET control
Overview of events scheduled for the selected week
Changing the selected week using a date navigator
Time blocks with customizable start and end time (inline editing using header active areas)
Drag and drop event creating
Drag and drop event moving
Drag and drop event resizing
Custom event background color
Editable event description
Full calendar CSS support
Custom CSS theme
Storing data in an SQL Server database (sample database included)
C# source code of the sample project
VB source code of the sample project
Advanced timetable features (recurrence):
Support for recurring events
Recurring events are marked with a special icon
Customizable recurrence rules (daily, weekly, monthly, annually)
Exceptions from the rules (different time, description, color for a specified occurrence)

C# source
VB source
SQL Server database
Queue of unscheduled cases
Courtrooms displayed in a tree (with buildings as parents)
Scheduling cases using drag&drop from the unscheduled list
Available time slots limited to working hours (8 am - 6 pm)
Custom CSS theme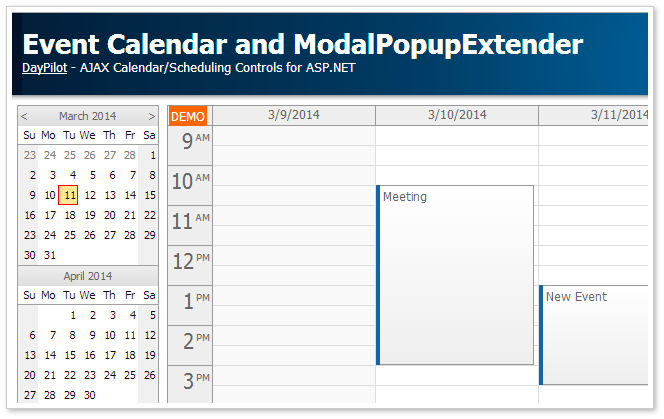 C# source
Visual Studio 2010 Solution
SQL Server connection using SqlDataSource
Modal popup using ModalPopupExtender (event creating, event editing)
UpdatePanel partial PostBacks mixed with fast internal CallBacks
Advanced

[C# source] [VB.NET source] [SQL Server]
Displays recurring events
Integrated dialog for recurrence rule editing
Supports rule exceptions
Recurrence data stored in a single database field (SQL Server)

[C# source] [VB.NET source] [SQL Server]
Assign people to locations
Overview page with all locations (based on the Scheduler)
Supports recurring assignments
View by person (based on the Calendar)
View by location (based on the Calendar)
Agenda view (list of upcoming events, including expanded recurring assignments)
Conflict detection (multiple concurrent assignments for the same person)
See Also